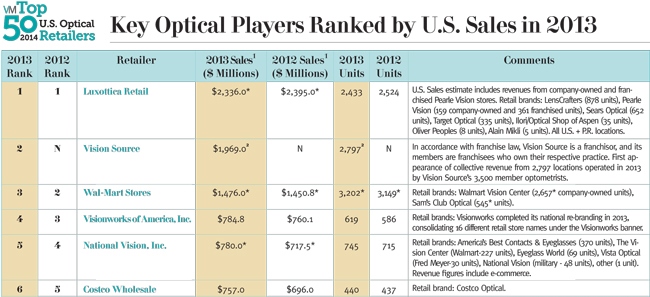 Vision Monday recently released their 2014 Largest Retailer Optical list. This article explains the major players.
With major acquisitions, organic growth, and new entrants in 2013, leading optical retailers jockeyed for position among VM's 2014 Top 50 U.S. Optical Retailers, the annual ranking of the nation's leading national and regional retailers and eyecare groups. The combined impacts of the greater availability of private equity financing, the growth of
online competition, and managed vision care's influence resulted in renewed deal making and consolidation at many levels of this year's rankings.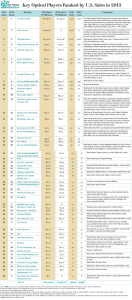 Refac, known for its leased department operations, purchased Arizona's Nationwide Vision in November, intent on expanding to other freestanding operations. MyEyeDr continued its acquisition pace, bringing in 23 additional locations. The fact that this activity continued into 2014 with MyEyeDr acquiring the corporate locations of Doctors Vision Center and Lords Eye Center and KKR reportedly spending more than $1 billion on National Vision this March indicates that further equity funding and subsequent consolidation are continuing into 2014 as well.
New companies entering the chart also impacted this year's rankings. The most notable new entry is Vision Source, which entered the chart at position number two with an estimated $1,969.0 million in sales. Vision Source, fueled by private equity and a new management structure, is asserting its role in the U.S. market as a franchisor and for the first time has quantified its collective revenues among its members.
Despite some of these changes, the Top 10 remains mostly intact. LensCrafters remains number one with estimated sales of $2,336.0 million from its retail operations in the U.S. and Puerto Rico. Walmart remains a formidable competitor at number three, followed by Visionworks, now a national brand, at number four and National Vision at number five.
Rounding out the Top 10 are Costco Wholesale at number six, Refac Optical Group at seven, Eyemart Express growing quickly at the number eight spot, For Eyes/Insight Optical Mfg. at number nine, and Cohen's Fashion Optical at number 10.
New entrants to the Top 50 list include Schaeffer Eye Center, Eye Express, and Eyetique. Other than the Top 10 U.S. Optical Retailers,
whose 2013 activity is profiled in their Snapshots on pages 46 – 48, here are 2013 highlights for some of the other Top 50 U.S. Optical Retailers:
American Optical Services (#11) continued its expansion strategy by acquiring locations throughout the country, increasing from 97 locations in 2012 to 104 locations generating $110.9 million in 2013.
Texas State Optical (#12) adopted a new management structure that will see outgoing president John Marvin succeeded by someone who is yet to be
determined by the member-owned cooperative's current search efforts.
Fueled by private equity capital from Boston-based Monitor Clipper Partners in December 2012, MyEyeDr (#13) pursued major expansion through
acquisition in 2013, increasing from 41 to 64 locations and generating revenue of $104.0 million, up nearly 40 percent from $75 million in 2012.
Luxury Optical Holdings (#20) acquired Opticians3 (one location) in Boston and Leonard Opticians (three locations) in New York during calendar year 2013, bringing the company's total number of locations to 49, generating revenue of $53.4 million.
Vision Precision Holdings LLC, formerly Macarius & Daniel, (#21) continued its expansive organic growth, increasing the number of locations for its two brands, Stanton Optical and MyEyeLab, from 27
locations in 2012 to 43 in 2013, with plans to open 10 to 15 new Stanton Optical stores every year along with six or more MyEyeLab stores.