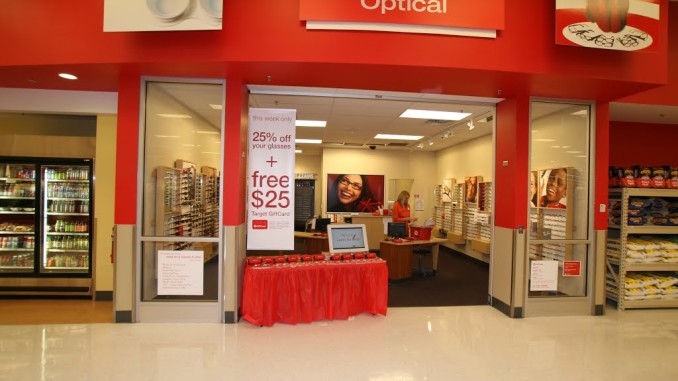 Many people do not realize that Target does eye exams and sells glasses. We collected some of the most commonly asked questions about Target Optical and list them below. Enjoy!
How much do eye exam costs at Target?
The eye exam costs at Target will cost you about $55 with extra for pupil dilation. Contact lens exams will run $110 and will cost more for astigmatism or other special factors.
Eye Exam Costs at Target
Target added optical shop several years ago and they operate under the motto "expect more, pay less". They claim to do this by bringing together eye care, fashion, affordability while keeping a simple, fun shopping experience. Eye exams at Target Optical are completed by an eye doctor and they provide eye exams on site. In fact, they are pretty reasonable for a basic eye exam. They also offer occasional promotions, coupons and discounts not found at WalMart, Costco and Lenscrafters.
Will a Target doctor provide the same quality exam as your local, family Optometrist?
While they may have good deals on glasses and contact, we recommend a more comprehensive exam at an Independent Optometrist. These doctors have more advanced technology to detect issues like hypertension, diabetes and more. An eye exam may be one of the more economical and fastest methods for early detection of heart attacks, strokes and diabetic conditions. However, if you are fairly young and do not foresee any issues with your vision, then Target might be an affordable solution for you.
What frame brands does Target offer?
They offer some pretty good brands such as Ray-Ban, DKNY, Armani Exchange, Coach, Converse, Disney, Maui Jim and more. For contact lenses, they have Acuvue, Alcon/CIBA, PureVision, Dalies Total One, Biofinity and more. They advertise a 90-day unconditional guarantee but that isnt unique to Target.
And when it comes to taking care of your eyes, we can't say enough about the importance of an annual eye exam. Eye exams available by Independent Doctors of Optometry next to Target Optical.
Does Target Take Vision Insurance?
They accept EyeMed, Humana and Aetna insurance but NOT VSP. They do offer Worry Free Protection. They charge $30 for the Worry Free Protection Plan and it provides replacement of damaged frames and/or lenses for a $25 copay. The plan lasts for 1 year after a 3 month holding period from the original date of purchase. You have to give back the damaged glasses to qualify. If you lost your glasses or if they were stolen, you are out of luck.
Here is a standard list of their lenses and frames:
Plastic – $30 + $45 if you want anti-reflective coating
Polycarbonate $130 (includes anti-reflective coating)
$50 for Transitions (clear lenses that turn into sunglasses when exposed to UV light)
High Index 1.67 $130 (includes anti-reflective coating) + $50 for Transitions
Zeiss Progressive Bifocal lenses – $198 + $60 for Transitions
Nikon HD Progressive Bifocal lenses – $340 + $65 for Transitions
How Much are Eye Exam Costs at Target?
Overall Ratings
Eye Exam Costs at Target
Talk to your doctor before starting with the exam to make sure that you are comfortable with their education and experience. Also make sure to shop for the best value - this does not mean just looking at the eye exam costs at Target. Look for brand names with high quality lens at an affordable cost. This will leave you with the best long term result. Still, they are known for their affordability. In our opinion, your eyes are one of the most important organs in your body. If you are young and only need single vision glasses, then this might be a good solution for you. However if you are looking for more of a medical exam or you have a more complex prescription, then I would get an exam at your local eye doctor.
It is important to note that they do NOT take VSP which is the largest provider of vision insurance in the US. In fact, Target is an Out-Of-Network provider for the many of the popular vision insurance companies.
Lastly, we also recommend getting retinal imaging scan from a machine like Optos. This is like a HD picture of your retina. It will cost you about $30 more but well worth it. Your optometrist can keep it on file so it can serve as your baseline. This helps them detect changing medical conditions each year.