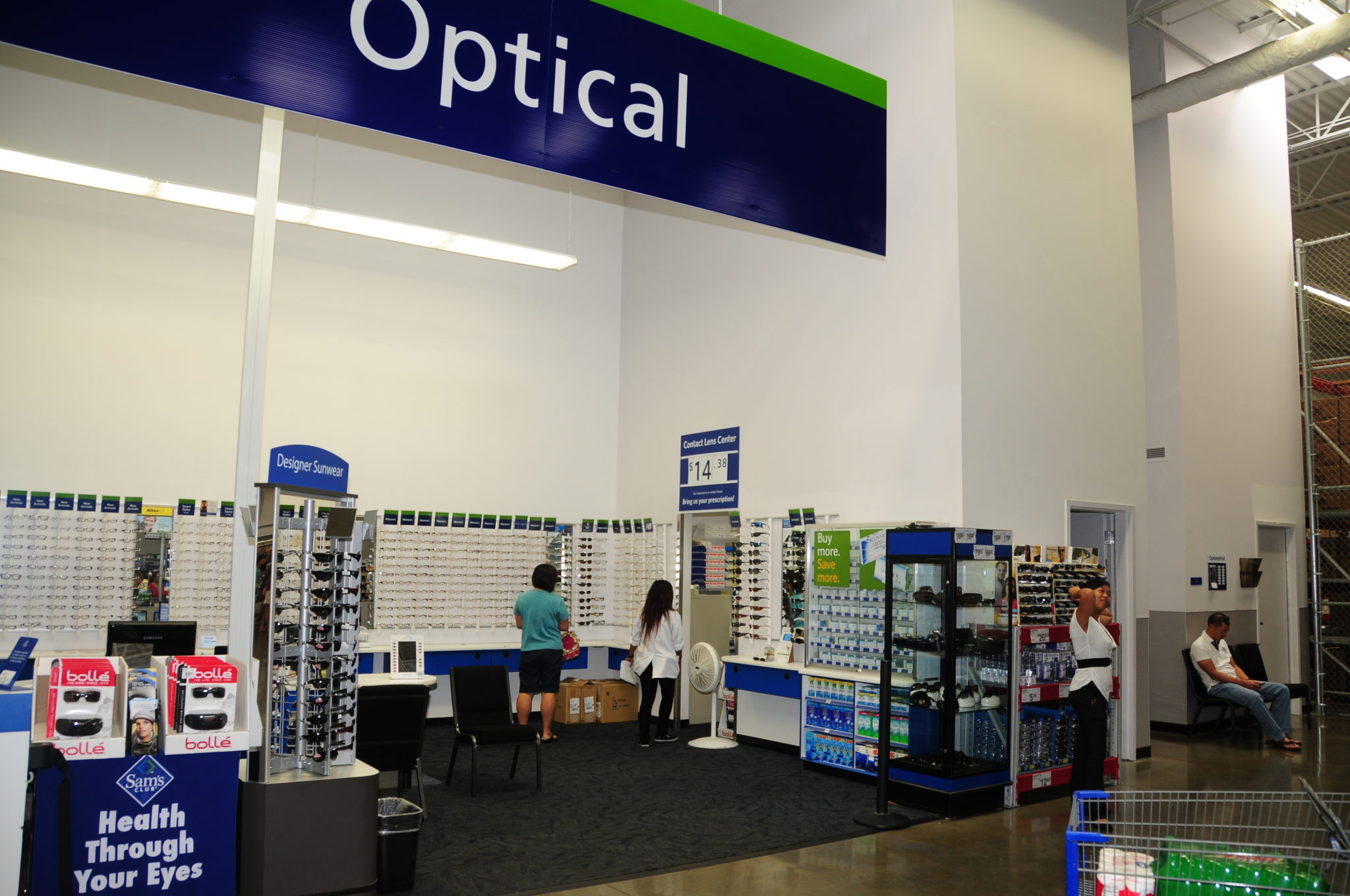 The eye exam costs at Sam's Club start around $50 for an eyeglass prescription only. Contact lens exams will run $100 and will cost more for astigmatism or other special factors. This does not include an exam for progressive/bifocal lenses. To dilate your pupil, expect to pay an additional $50.
Eye Exam Costs at Sam's Club Vision Center
Sam's Club is part of the Walmart empire. They are a discount buying club that has locations throughout the US. They good bargains for nearly everything for your home. They have an optical department at nearly all of them. In fact, they actually have some pretty good brands and selection. Sam's Club has an eye doctor and they provide eye exams on site. In fact, they are pretty reasonable compared to most independent optometrists. They also offer occasional promotions, coupons and discounts not found at JC Penney, Sears and other places.
We generally recommend getting a more comprehensive exam at an Independent Optometrist that may have more advanced technology to detect issues like hypertension, diabetes and more. An eye exam may be one of the more economical and fastest methods for early detection of heart attacks, strokes and diabetic conditions. However, if you are fairly young and do not foresee any issues with your vision, then Sam's Club might be a good fit for you.
When trying to determine the eye exam costs at Sam's Club, you should understand this list of their lenses and frames:
Plastic – $30 + $45 if you want anti-reflective coating
Polycarbonate $130 (includes anti-reflective coating) + $50 for Transitions (clear lenses that turn into sunglasses when exposed to UV light)
High Index 1.67 $130 (includes anti-reflective coating) + $50 for Transitions
Zeiss Progressive Bifocal lenses – $198 + $60 for Transitions
Nikon HD Progressive Bifocal lenses  – $340 + $65 for Transitions
If you are curious as to what happens during an eye exam, check out this article on, "What Happens During an Eye Exam?"
Article: Eye Exam Costs at Sam's Club
Overall Ratings
Eye Exam Costs at Sams Club
Talk to your doctor before starting with the exam to make sure that you are comfortable with their education and experience. Also make sure to shop for the best value - this does not mean just looking at the eye exam costs at Sam's Club. Look for brand names with high-quality lens at an affordable cost. This will leave you with the best long term result. Still, they lead in terms affordability and since they are owned by Walmart they are a strong alternative to shopping there.
In our opinion, your eyes are one of the most important organs in your body. If you are young and only need single vision glasses, then this might be a good solution for you. However if you are looking for more of a medical exam or you have a more complex prescription, then I would get an exam at your local eye doctor. We also recommend getting retinal imaging scan from a machine like Optos. This is like a HD picture of your retina. It will cost you about $30 more but well worth it. Your optometrist can keep it on file so it can serve as your baseline. This helps them detect changing medical conditions each year.
It is important to note that they do NOT take VSP which is the largest provider of vision insurance in the US. In fact, Sam's Club is an Out-Of-Network provider for the many of the popular vision insurance companies.