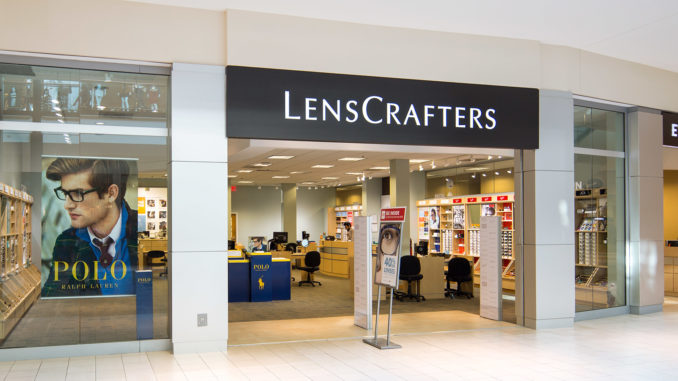 We have captured some of the most common questions about the eye exam costs at Lenscrafters. We have also included information about their frames and eyeglasses brands. Lenscrafters has emerged as one of the most well-known brand names in the optical industry around 1-hour production of glasses. They have locations in malls across America and advertise on TV regularly.
What are the eye exam costs at Lenscrafters Vision Center?
We are often asked how much Lenscrafters charges for an eye exam. The eye exam costs at LensCrafters for a basic exam are $60. But you might need a retinal scan or dilation for an extra $35. If you include a contact lens fitting, the eye exam costs will cost you $100. Of course, this can vary by location and for folks without vision insurance. That being the case, you'll need to call the particular Lenscrafters location near you to determine the exact price of an eye exam.
Who owns Lenscrafters?
First, LensCrafters is widely regarded as one of the leading Optometry brands in the United States. They are owned by Luxottica who also owns Pearle Vision. They are praised for their quality and professionalism and are known for how quickly they can construct and provide glasses or contact lenses for their patients. Of course, those are just general beliefs that most people have been convinced of, and it would certainly benefit anyone to learn a bit more detail about the company.
Lenscrafters Reviews
Needless to say, all Lenscrafters optometrists have the same degree as any of their fellow practitioners. They have the same schooling, and the only difference in quality would be a different level of experience. Obviously, optometrists who have been performing their practice longer have more experience, so other than how many years they have been in the business, there is no difference in Lenscrafters optometrists and any other.
Does Lenscrafters still offer glasses in 1 hour?
Lenscrafters is pretty well known for their supposed ability to make and provide glasses for you in a mere hour. This is true in some cases but not in others. It depends on your specific prescription, the frame you pick, the lenses you choose, and whether or not the store has a lab. On the other hand, if you ask for some of the newer special additions to your glasses, special ordering may be required and that would take seven to fourteen business days. That said, you can get glasses in an hour, but it depends on your choices.
Lenscrafters Accufit review
This is a tool that helps them place your prescription in your glasses correctly. They claim that this optical technology measures your eyes five times more accurately than the traditional approach. The feature is called Fit Sensor and it is accurate down to a tenth of a millimeter. This is especially important when ordering bifocals or a progressive lens.
The Lenscrafters Clarifye digital eye exam
They claim this new technology is very precise because it maps the curvature of the cornea. It gives their eye doctor a digital
fingerprint of your eye. It detects small changes that occur in your eyes over time. It even shows the differences you have in your day and night vision.
What Frame Brands does Lenscrafters Offer?
Being a top-notch Optometry provider, Lenscrafters carries nearly all of the best brands. Oakley, Ralph Lauren, Armani, Vogue, you name it. These high-profile brand names are definitely available at Lenscrafters, along with a great many other brands that might be cheaper. As a professional service provider, Lenscrafters provides professional brands.

How much do glasses cost at Lenscrafters?
Here's the comparison and differences between their lenses:
Plastic – These start around $125. This is for basic plastic and pretty much what you would get anywhere.
Featherwates – These start around $190. The material used is polycarbonate which provides a thinner (20%) and lighter (almost 30%) than plastic lenses. They claim they are the most impact resistant lens material available. They have a scratch-resistant coating and UV protection
Featherwates Plus – These start at $220 and are comparable to the Featherwates. The primary difference is that these have a special scratch-resistant coating making them "super scratch resistant".
Featherwates complete – These start at $325. These are not as scratch resistant as the Featherwates plus, but better than the base Featherwates. They have a special anti-reflective coating which makes them dirt resistant and easy to clean, reduces reflections, reduces reflected light during night driving, and reduces eye strain when using a computer.
Does Lenscrafters accept Vision Insurance?
LensCrafters accepts EyeMed Vision Care, as well as the majority of vision care plans, including Anthem Blue Cross Blue Shield, Humana, and Aetna. You can view their accepted vision plans on their insurance page. A good practice is to confirm your benefits with your insurance provider to be absolutely sure.
If you are curious as to what happens during an eye exam, check out this article on, "What Happens During an Eye Exam?"
Editors Note:
Lenscrafters is exactly what you would expect from a professional optometry provider. They offer quality services at competitive prices, with quality optometrists and high-profile brands available to all of their patients. In most circumstances, they can provide prescription glasses in under an hour, or same-day at least, and they pride themselves on their ability to provide quick and efficient service for all of their patients. However it is important to note that they do NOT take VSP which is the largest provider of vision insurance in the US. We also recommend getting retinal imaging scan from a machine like Optos. This is like a HD picture of your retina. It will cost you about $30 more but well worth it. Your optometrist can keep it on file so it can serve as your baseline. This helps them detect changing medical conditions each year.
Article: Eye Exam Costs at Lenscrafters for Glasses and Contacts