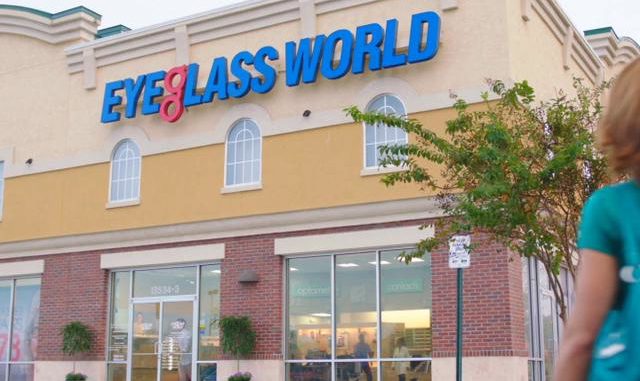 Eyeglass world will do a free eye exam if you purchase 2 sets of glasses for $78. Their regular eye exam costs are $39. This is for folks without vision insurance. They are comparable to Americas Best as a low-priced provider of eyeglasses.
Eye Exam Costs at Eyeglass World
Eyeglass World has been in the industry for over 20 years. With over sixty locations in the US, they are one of the larger but less known players in the eye service industry. The cost of services at Eyeglass World is lower than the competition. Eyeglass World attributes this to moving large volumes thus benefiting from economies of scale, and passing on the benefits to the consumers.
Frames
Frames are priced from $78-$225 depending on the material, brand and frame shape. There is a range of frames from simple designs to designer frames. Some of the top labels include Calvin Klein, Ray ban, Armani, Bronx and Bolle among others.
There is a discount on frames. For $78 you get two pairs of kids' frames. 2 pairs of bifocals go for $138 and 2 pairs of progressives will cost $158. These offers apply for one person only i.e. you cannot have the discount if you want one pair for yourself and another for your kid.
Contact lenses
Eyeglass World has different kinds of contact lenses; disposable, daily wear soft, extended wear soft, programmed wear soft, and gas permeable. You can also get them in different tints; clear, enhanced, visibility and opaque. Contact lenses are priced differently according to the wear type and tint you want. If you feel the contact lenses you get is not suitable, you can return them for a refund minus the costs of the eye exam.
Vision insurance
Eyeglass World will take vision insurance plans. Some of them include:
• Avesis
• Superior Vision
• NVA – National Vision Administrators
• UnitedHealthcare – Routine Vision Benefits
• EyeMed Vision Care
• MES – Medical Eye Services
• Adventist Risk Management
• Block Vision
• VIPA – Vision Insurance Plan of America
• Davis Vision
• MetLife Vision
The list above is not exhaustive.
Delay complaints
Some customers have complained that Eyeglass World takes too long for simple tasks such as changing eye lenses or polishing frames. Some customers especially with those using vision insurance have also complained of unclear pricing for examinations and eye frames. If you are curious as to what happens during an eye exam, check out this article on, "What Happens During an Eye Exam?"
Article: Eye Exam Costs at Eyeglass World
Overall Ratings
Eye Exam Costs at Eyeglass World
Overall Eyeglass World is relatively inexpensive and has a wide range of eyeglasses for both adults and kids. The fact they take insurance is encouraging for those seeking pricier frames. The discounts are also attractive and beat many competitors. This is the equivalent of a fast food restaurant for your eyes. In our opinion, your eyes are one of the most important organs in your body. If you are young and only need single vision glasses, then this might be a good solution for you. However if you are looking for more of a medical exam or you have a more complex prescription, then I would get an exam at your local eye doctor.
It is important to note that they do NOT take VSP which is the largest provider of vision insurance in the US. In fact, they are Out-Of-Network provider for the many of the popular vision insurance companies.
Lastly, we also recommend getting retinal imaging scan from a machine like Optos. This is like a HD picture of your retina. It will cost you about $30 more but well worth it. Your optometrist can keep it on file so it can serve as your baseline. This helps them detect changing medical conditions each year.