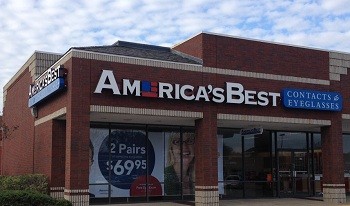 Eye exam costs at Americas Best are $45 which is comparable to Walmart or Costco. The exam can also be free if you buy glasses. Contact lens exams cost are $79. In order to get the free eye exam, you need to buy two pairs of eyeglasses. You can also get free contact lens exams every 3 years by joining the Eyecare club for $99. This is for folks without vision insurance.
Eye Exam Costs at Americas Best
Researching eye exam costs at Americas Best? With 450 retail stores across the US, America's Best is one of the largest eye care providers in the country. This provider also has some of the cheapest prices for eye wear. There are discounts and offers regularly running on their website. Their price and quality is very comparable to WalMart Vision Centers, Costco or even Sam's Club but without being connected to a large retail store. They make finding and purchasing the right eye wear very easy as you can choose a pair directly from their website.
Frames and Lenses
There are hundreds of frames on offer at America's Best. It is probably the eye care provider with the widest range in frame prices from $59 to $199. There are discounts on all frames. You will get 2 pairs of $59 prices for $69 while 2 pairs of $199 glasses will cost $299.
America's Best has medium priced designer frames like Just, Commotion and Karen Millen. Contact lens brands include Acuvue, Optix, Dailies, Biofinity, Proclear and Sofmed among other well-known brands. Members of the Eyecare club get discounts on contact lenses with prices as low as $13.99. You can also bulk in bulk, like an annual supply for further discount.
Vision insurance
While America's Best encourages clients to choose promotional prices over using insurance, they still accept plans from providers like Advantica, avesis, Davis vision, Metlife vision, Superior vision, Vision Benefits America and many others. Note that you cannot combine your insurance plan and promotional offers like the 2 pairs for $69.95. Flex Spending Accounts cards are also accepted.
Lower pricing
America's Best have very attractive rates compared to other large eye care chains and independent optometrists. They claim their lower prices come from moving huge volumes which passes the benefits of economies of scale to the customer.
Complaints
Some clients have complained of false advertising especially on the higher priced eyeglasses. Some have also complained of wrong diagnosis and waiting too long before getting the right fit glasses and contacts. The service in some of their stores has also been complained about. If you are curious as to what happens during an eye exam, check out this article on, "What Happens During an Eye Exam?"
Article: Eye Exam Costs at Americas Best
Overall Ratings
EyeExamCosts.com Recommendation
America's Best seems to want to be identified as the low priced alternative, rather than compete on higher value medical services and overall quality. You have more complaints than average on their customer service than their competitors. Still, they lead in terms affordability. In our opinion, your eyes are one of the most important organs in your body. If you are young and only need single vision glasses, then this might be a good solution for you. However if you are looking for more of a medical exam or you have a more complex prescription, then I would get an exam at your local eye doctor.